Who We Are
Born of strife and struggle, our members have been uniting for better lives since 1903.

We honor a heritage that began when courageous workers overcame hostility, threats and violence to join together for better lives. We honor that heritage through current struggles — being heard in government, raising standards for workers and employers on the job, and reaching out to a new generation of workers yearning for a better life.
Our Union Pride
The men and women of Laborers Local #264 do the hard, dangerous and sometimes dirty work of building our communities.

We are the most progressive, aggressive and fastest-growing union of construction workers, and one of the most diverse and effective unions representing public service employees.

Our members are on the forefront of the construction industry – which today is an economic powerhouse of 12 million working men and women who produce 5 percent of the gross domestic product of the U.S. and Canada.

A half-million strong, we are united through collective bargaining agreements which help us earn family-supporting pay, good benefits and the opportunity for advancement and better lives.
Voter Registration Deadline July 9th

The last day to register to vote in the August Primary Election is Wednesday, July 9th. If you have not yet registered please click on the Vote Missouri Logo and it will take you to the Secretary of State website and fillout form, print and put in the mail.
On 50th anniversary of Civil Rights Act of 1964, Gov. Nixon signs executive order to help increase diversity, inclusivity in state contracts
Saying that the values of Missourians include diversity, tolerance and equal opportunity, Gov. Jay Nixon today marked the 50th anniversary of the signing of the historic Civil Rights Act of 1964 by signing an executive order to promote greater inclusivity in state government contracts.
Executive Order 14-07 establishes the Missouri Disparity Oversight Review Committee to engage in a thorough review and analysis of the Missouri Disparity Study, and then make recommendations based on that review and analysis. The disparity study, currently underway by the Missouri Office of Administration, is designed to determine whether the State of Missouri is fully utilizing minority and women-owned business enterprises (M/WBE) in government contracts.
"One of the strengths of Missouri is the great diversity of our citizens, and that is reflected in our shared values of inclusivity, tolerance and equal opportunity," Gov. Nixon said. "Our efforts to promote greater involvement in state government by minority- and women-owned businesses must be focused, well-planned and ongoing. On the 50th anniversary of one of the milestones of civil rights in this country, I am tasking this committee with examining our ongoing efforts and determining how we can increase participation and inclusivity." Read more by clicking here.
AT&T Staff & Member Discounts
From the office of Liz Shuler, Secretary-Treasurer AFL-CIO
In your key roles as leaders of our important State Feds and CLCs, you know better than anyone that buying union-made products and services is a great way to stand in unity with our brothers and sisters. Thankfully, there is a clear option to do just that in the often crowded world of mobile carriers. With 45,000 workersrepresented by the Communications Workers of America, AT&T is the only national unionized wireless provider and is the clear choice for union members, their families and for the union staff working to promote their interests.

In an effort to ensure that AT&T is the clear union choice for telecommunications services, CWA facilitated negotiations with AT&T, the AFL-CIO, and Union Plus to provide discounted wireless service for union offices, union staff, and most importantly, valued union members. In addition, through negotiated discounts with the AFL-CIO, AT&T also offers significant savings on local and long-distance, internet, video and web conferencing and other communications technology services for national, regional and local union offices.
AT&T Staff & Office Discount Plan - AT&T Union Member Discount Plan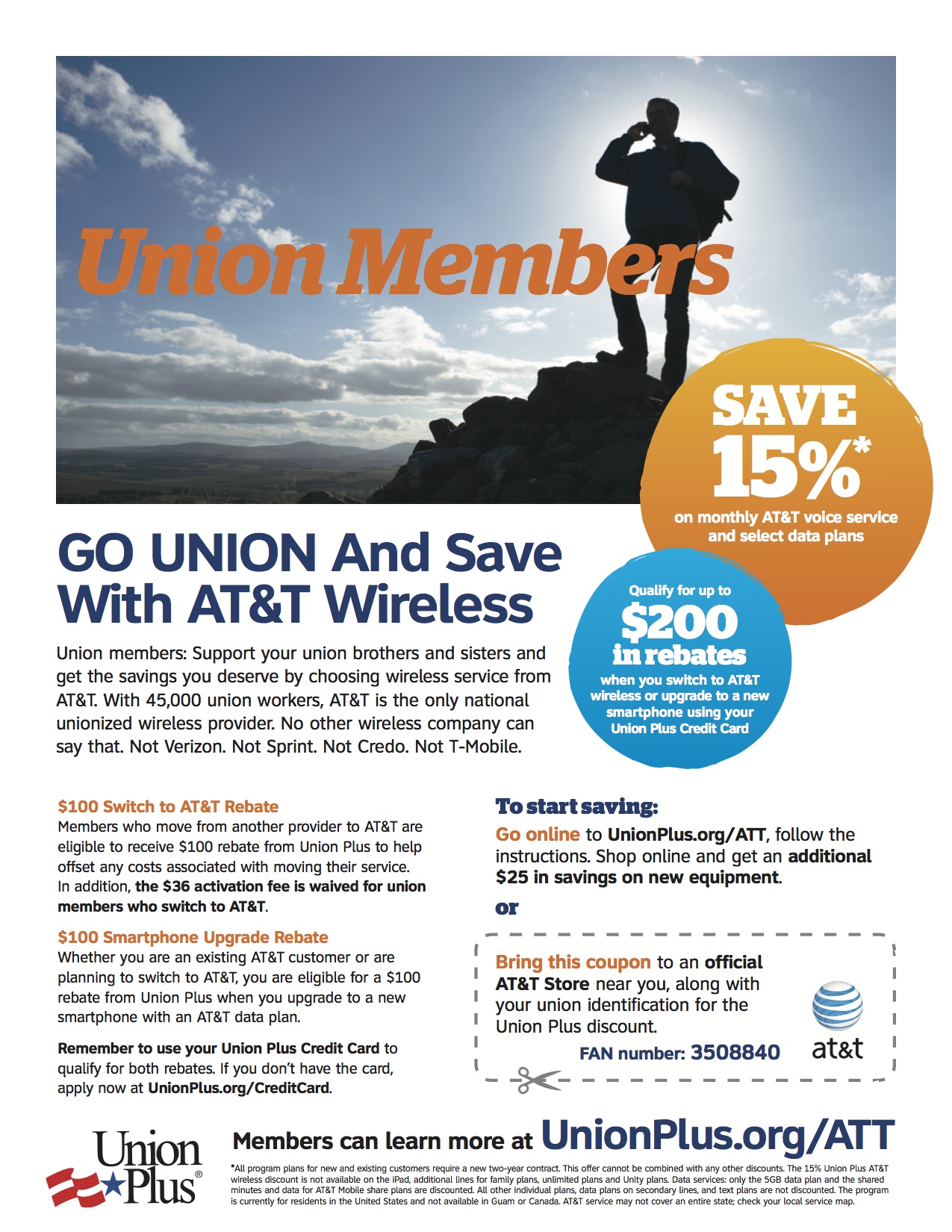 Right to Work is Wrong for Workers and Wrong for Our Country
FACT: National interest groups, funded by big corporations, banks and insurance companies are lobbying for "right to work" bills. These outsiders want to increase business profits by destroying unions, cutting pay and eliminating benefits.

FACT: According to the Federal Bureau of Labor Statistics, the rate of workplace deaths is 51 percent higher in states with right-to-work, where unions can't speak on behalf of workers.

FACT: Right-to-work laws allow government to tell companies and their workers what they can and can't bargain over. Labor and management should have the freedom to agree upon the conditions of work...without interference. Negotiation is the key to protecting workers and their families.

SAY NO to right-to-work! Help us fight back!

Please contact our Political Director, Theresa Garza Ruiz, for more info or to have her speak with your group/organization on this issue.
| | |
| --- | --- |
| What's New at Laborers 264 | |